The decentralized finance (DeFi) tokens has ended its market hype as Bitcoin (BTC) maintains its bullish price.
Correlation between Bitcoins and DeFi tokens
The DeFi market is one of the most popular ecosystems in the crypto world. It has caught the attention of many investors in the crypto world. However as said, its token price has dropped, while BTC continues to boom.
According to Market Science Co-Founder BitDealer, the DeFi market drop is due to the price spike of Bitcoin. He examined the 45-day correlation between price performance of DeFi tokens and Bitcoin.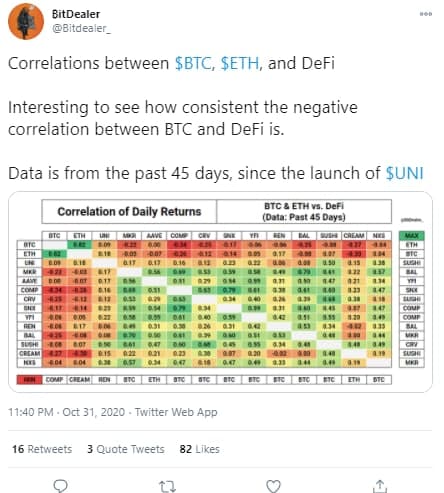 Major DeFi token's price declines
Moreover, Uniswap's UNI token, a decentralized P2P exchange took the entire cryptocurrency space by storm with its volatility. Currently, the price dropped to $2.10 from $4.43 on October 1. Likewise, its market capitalization fell to $449 million.
As per CoinGecko, DeFi's token Yearn.finance (YFI) price dropped to $9,517 from $23.8K on October 1. However, Yearn.finance's total market capitalization currently placed at over $288 million from a high of $1.27 billion in September.
Other major DeFi tokens Maker (MKR), UMA (UMA), Sythentix (SNX), Compound (COMP) also declined to $519.24, $6.5, $2.5, and $85.98 from $596, $8.9, $4.85, and $134.9, respectively, at the beginning of October.
DeFi still has a huge total value locked (TVL), in spite of DeFi's break in the market hype. Today, DeFi space has a TVL of $11.98 billion. This shows an indication that there are still many investors that believe in the potential of the environment.
In addition, Bitcoin's price has spiked by over $14,000 at the end of October . After the payments giant, PayPal announced it was entering the crypto space. According to CoinGecko, Bitcoin trades at a high price of over $13,715, at the time of writing. Moreover,  DeFi tokens could continue to struggle if BTC keeps surging.
Recommended for You